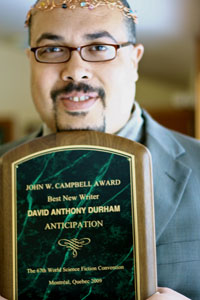 External Links
Moderators
Bill Katz (Writertopia admin)
David Walton
Corrections and additions for this page can be sent to a moderator.
Eligible authors should contact a moderator for inclusion in the list.
About
The John W. Campbell Award is given to the best new science fiction or fantasy writer whose first work of science fiction or fantasy was published in a professional publication in the previous two years. For the 2016 award, which is presented at the World Science Fiction Convention (WorldCon), the qualifying work must have been published in 2014 or 2015.
There can be confusion over the term "professional publication" since the Science Fiction & Fantasy Writers of America (SFWA), the World Science Fiction Society (WSFS), and the award sponsor define it differently. For the purposes of the Campbell Award, professional publications are works sold for more than a nominal amount and published anywhere in the world.
Please refer to the Eligibility F.A.Q. for an explanation of qualifying publications and answers to common questions.
The Campbell Award is administered by the Worldcon, but the rules for awarding the Campbell are determined by the award sponsor, Dell Magazine. Eligibility rules were changed in 2005.
Voting Procedure
The John W. Campbell Award uses the same nomination and voting mechanism as the Hugo, even though the Campbell Award is not a Hugo.
Like the Hugo Awards, the Campbell Award voting takes place in two stages. The first stage, nomination, is open to anyone who had a Supporting or Attending membership in the previous, current, or following year's Worldcon as of January 31. For Sasquan, this means members of Sasquan (the 73rd World Science Fiction Convention in San Antonio), MidAmeriCon II itself, and Worldcon 75 (Helsinki) can nominate any eligible author. This web page helps identify eligible authors for the Campbell Award.
The official nomination page is available at the MidAmeriCon II site. Nominations will close on March 31, 2016.
To be able to vote for the award, you must be a member of MidAmeriCon II (the 74th World Science Fiction Convention in Kansas City, MO). If you are not a member of MidAmeriCon and wish to vote, you must purchase a supporting membership or an attending membership before January 31.
Past Voting Results
2015 Campbell Award Finalists
2014 Campbell Award Finalists
2013 Campbell Award Finalists
2012 Campbell Award Finalists
2011 Campbell Award Finalists
2010 Campbell Award Finalists
2009 Campbell Award Finalists
2008 Campbell Award Finalists
2007 Campbell Award Finalists
2006 Campbell Award Finalists