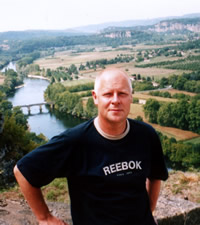 Profile moderator
Currently moderated by Writertopia members.
The profiled writer can claim ownership of this profile by contacting us.
Bio
In October 2005 Sean Wright's critically acclaimed debut SFF work The Twisted Root of Jaarfindor was a short-listed finalist for a British Fantasy Award for Best Novella. In 2005, he was named as one of Hatchard's Authors of the Year, along with Susanna Clarke, V.S. Naipaul, and other bestselling authors of the official Royal bookshop, Piccadilly, London. His books have featured prominently at the world's largest independent bookstore, Foyle's, London, too, as a continuing favourite bestseller. His second sci-fi/fantasy title - Dark Tales of Time and Space was nominated for the 2006 Lancashire Children's Book of the Year Award in the UK.
Reviews
David Hebblethwaite

The Zone SF Review

I like a book that tries to something a bit different. The Twisted Root Of Jaarfindor doesn't so much do something different as systematically demolish most of the conventions of the fantasy genre and storytelling in general... This is the only work of Sean Wright's that I've read to date, but it has placed him on my list of essential writers.

The Guardian

Subject to the biggest buzz...since GP Taylor's Shadowmancer

Jill Insley

The Observer

Sean Wright's The Twisted Root of Jaarfindor is one to watch out for...along with Michelle Paver's Wolf Brother, PB Kerr's Children of the Lamp, Madonna's The Adventures of Abdi, Julia Donaldson's Gruffalo's Child, Charmian Hussey's Valley of Secrets, and Philip Pullman's Scarecrow and the Servant.

Alasdair Stuart

The Zone

Wright's setting is nicely handled, the otherworldly nature of the train bringing a heavy, portentous atmosphere to the story. In fact, the setting is easily Dark Tales strongest point. Wright has a nea t sense of geography and the spirit world the train moves through is just to the left of our own and filled with an interesting variety of souls and other creatures.

Nick Gifford aka Keith Brooke

bestselling author of Piggies, Incubus, and Flesh & Blood (Puffin)

This is a high-paced adventure with plenty of twists and turns. It rarely eases up, and despite its occasional flaws it's hard to put down. Wright is no prose stylist, but the pace of storytelling and the vivid and dark vision are striking. He's like a remix artist -- The Twisted Root of Jaarfindor is a mix'n'match of standard genre furniture given a few dark and innovative twists. There's a lightness of touch, too, with some lovely moments of wry humour: 'Rule the court with a mighty blade of steel and tax the peasants for all you can get' are Lia-Va's father's dying words of advice.

Hilary Williamson

Bookloons.com

Reminiscent in style to Mervyn Peak and Michael Moorcock

Lucy Masters

children's buyer, Hatchard's Piccadilly, London

Outstanding fiction of the highest calibre (Jaarfindor)

Infinity Plus

When it hits its stride, Dark Tales... is grippingly mysterious, and long passages thrill with an air of difference, a fantastical vision quite unlike anyone else's.

SF SITE

In New Wave of Speculative Fiction, some of the stories are like fine art. Michael Mirolla's "Inside/Out" and Sean Wright's "The Numberist" come to mind. To me, they were like paintings you have to stare at for awhile to start to grasp their depth. Mirolla's story deals with a family in a fluid, dangerous reality (or unreality). Wright's story presents and unpredictably strange future in which God, in his anger, revealed the bizarre nature of the universe.

Rob Bedford

SFF World

Take a dash of Madeline L'Engle's A Wrinkle in Time, a sprinkling of China Mille's Perdido Street Station, and a bit of Neil Gaimans Coraline, and you will have an idea of what Sean Wr ight is doing in his highly imaginative novel, The Twisted Root of Jaarfindor. Wright takes a storyline familiar to many readers, that of the youth maturing and questing, and dresses it in the clothes of perhaps the bitchiest heroine this side of Narnia or any swiftly tilting planet... As the novel continues, so does Wrights tearing down of the clich of the typical princess character... This is a bold, raw uncompromising fantasy novel blending blends elements from all branches of the speculative fiction genre, and left me wanting to discover more of Wrights imagined world

Shawn P Madison

Eternal Night ezine

This reader was left wanting for more (Jaarfindor) and I suspect that many other readers of this book were left feeling the same exact way. Get back to writing, Mr. Wright. Your fans will be demanding more and you'll most likely be hard-pressed to fulfill that bursting need.

Rick Kleffel

The Agony Book Review

I get a sort of Jack Vance vibe from this one (Twisted Root of Jaarfindor) the type of book that you might successfully hand off to the video-game-addict in your house when they plead for a book to read for English class. And if you've already run through it yourself, you'll be able to spot-check 'em -- and have enjoyed a nice tight tale of fantasy adventure in the process.

Foyle's bookstore

Charing Cross, London

The Twisted Root of Jaarfindor...looks set to gather a cult following. Turning on its head stereotypes of race, colour and creed, the Twisted Root re-writes the borders of myth, fantasy and science-fiction.

Dru Pagliassotti

The Harrow Literary Magazine

Sean Wright has talent and creativity, there's no question about that. The world he describes is bizarre and alien, corrupt and unique. It resonates with the "weird fantasy" crossgenre retro-sci fi atmosphere of M. John Harrison's and China Mieville's works. But Wright's vision of society, politics, religion and human nature is unrelievedly dark and depressing, with the hope of redemption offered only at terrible and destructive cost. Love, one feels, simply doesn't exist in the world of Jaarfindor.

JayTomio

fantasybookspot.com

The China Mieville influence is unmistakable (Twisted Root of Jaarfindor) and I think cannot be overstated, regarding both in application and intended effect of the depiction of landscapes and the gallery of characters describable as both eldritch and fantastic. The novella both achieves and sustains a brisk pace; it is not bogged down by the surplus of whims ical ideas, and I think achieves an entertainment value...

GP Taylor

#1 NY Times bestselling author of Shadowmancer

Fantastic books and a fine new talent... highly recommended.

Shawn P. Madison

Eternal Night e-zine

Refreshing and different, Dark Tales of Time & Space follows this young man, who in life had everything he could ever want but whose personal life was in a veritable shambles, and lets the reader see inside the complicated person that he was. Through an altercation with his "darker self", a physical manifestation o f his alter egoa character known as Crack Boy, and Joey's interaction with several memorable characters, this book does a good job of filling in the mysterious blanks of what might lie beyond this plane of our reality.

Gary Fry

author, editor, founder of Grayfriars Press

Just finished Dark Tales of Time and Space and really enjoyed it. Compelling prose, very convincing characters, and a really successful landscape of the guy's mind that was simultaneously exciting and unsettling. I loved the Iraq stuff, and I thought the whole thing worked to a moving conclusion. Grand stuff.