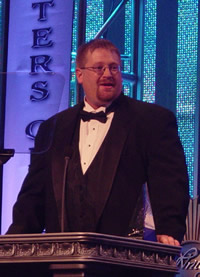 Profile moderator
Currently moderated by Writertopia members.
The profiled writer can claim ownership of this profile by contacting us.
Bio
Ken Scholes is a speculative fiction writer...among other things.
Ken grew up "redneck" in a double-wide trailer outside a logging town near the base of Mt. Rainier in Washington State. In the first grade, Ken was stapling together pages of self-illustrated prose ("Dinosaurs are cool. They are big, too.") Ken soon fell into speculative fiction (Jack Williamson's Trapped in Space) and has wanted to be a writer ever since. After reading Ray Bradbury's essay "How to Keep and Feed a Muse" in high school, he started crafting short stories of his own. With English teachers, guest authors, and even a couple of letters from Bradbury himself spurring him on, Ken started submitting his work for publication at the age of fifteen.
After an unfortunate event involving feral llamas and tapioca pudding, Ken put away his typewriter to pursue other interests. Like many writers before him, he worked a number of jobs. After being a sailor, soldier, clergyman, and label-gun repairman, he eventually landed in nonprofit management. After eleven years as an Executive Director, Ken recently moved into public procurement for a government agency. He has a degree in History from Western Washington University.
In 1997, Ken returned to writing and submitting speculative fiction. In 1998, Ken found himself in a writing class taught by Patrick and Honna Swenson (of Talebones fame) and shortly after, Ken made his first short fiction sale. More sales followed.
In 2001, his short story "Edward Bear and the Very Long Walk" picked up scattered award recommendations and honorable mentions, including honorable mention in Gardner Dozois's Years Best Science Fiction.
Ken won the Writers of the Future contest in 2004. "Into the Blank Where Life is Hurled," a tribute to writer William Hope Hodgson and showman Harry Houdini, appears in L. Ron Hubbard Presents Writers of the Future Volume XXI.
Ken has attended various local conventions as a guest professional since 2000, assisting with programing and writers workshops. For 2006, he plans to attend Orycon, Norwescon and Radcon. He is also a member of the Codex online writers group and the Science Fiction and Fantasy Writers of America. He invites his readers to visit his website at http://www.sff.net/people/kenscholes.
Ken lives near Portland, Oregon, with his wife (the indomitably lovely Jen West Scholes), two rather large and worthless cats who do not talk or appear in his fiction, five guitars and more books than you would ever want to help him move on a rainy Saturday.
Contrary to popular belief, he does not live in a trailer.